How to Use Direct Mail in B2B Marketing
Using direct mail in business-to-business marketing can pay dividends by creating an effective campaign with measurable goals. Often described as every business's "secret weapon", direct mail is more than holding its own in the digital age by earning a higher open and response rate.
The best way to reach out to corporate clients is by direct mail, according to research. It can be used as your sole marketing medium, or in collaboration with other forms. Rather than arriving in the recipient's inbox, along with dozens of other emails, direct mail arrives in a more personal way through your letterbox.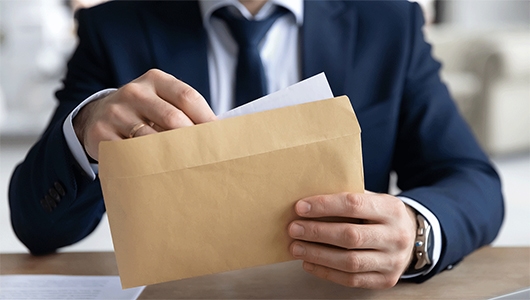 © fizkes / Shutterstock.com
Using direct mail for B2B marketing enables businesses to establish a strong relationship with clients and increases ROI significantly. Surveys show 70% of recipients think direct mail seems more special and personal. The key to success is incorporating best practices into your B2B direct mail marketing strategies.
Define your prospects
When B2B marketing, you need to define your prospect profile carefully and align marketing with sales. Target a business that's most likely to convert into a customer. Your direct mail activity will be wasted if you send mail to employees who are no longer there, so align your marketing activities with your sales team. Let them guide you about the relevant people and add them to your mailing list.
Include a clear call to action
Provide recipients with a straightforward call to action that they can complete easily. Having a call to action in all direct mail is important in fulfilling the main purpose of your campaign. Don't make it vague: tell your customers exactly what they need to do next. If you send a mailing shot without the call to action, your potential customers will be left wondering what the next step is.
Study your prospects
Gather information about your prospects' preferences, likes, dislikes, life stages, lifestyle and needs. Then you will have a clearer idea of exactly what they want. Learn how to advertise to the right audience, so you're sending direct mail to the people who genuinely need your products or services. Describe your brand in a way that matches their needs.
Personalise your mail
Never send plain mail with no personalisation, even if all you do is as little as simply adding the name of your prospect on the item. This simple step can create an instant connection with the individual. Sending personalised direct mail also helps to retain existing customers and promotes repeat business. Making your customers feel special results in more brand loyalty and enhances your reputation.
Getting creative

Creativity can work wonders. Marketing is all about grabbing attention and the best way of doing this is by having an eye-catching piece of direct mail. Be as creative as possible and add your logo. Make sure you use professional graphics and bright colours, as the right combination can make your direct mail much more successful.
Follow up mailing shots

If you send B2B mail on one occasion and then just await a response, this isn't the best course of action. Follow up your mailing shot. You can do this by combining direct mail and digital promotion, such as sending an email and another piece of mail to your audience; or you can simply concentrate on direct mail. B2B marketing needs regular, strong follow-ups. Keeping your audience updated is the key to greater success.
Recent customer research has found direct mail averages a response rate of 4.4%, compared with email's average response rate of 0.12%. So, it really does pay to get your direct mailing technique right when it comes to B2B marketing!
Need some help from the experts? For a no-obligation chat, give us a call on 01304 383838.