The Carpenters: Please Mr Postman
Sister and brother duo The Carpenters became one of America's top musical groups of the 20th century. Their total record sales surpassed more than 100 million and they were one of the top ten best-selling artists in the world at their peak.
Their main success came between 1969 and 1983, when some of their records achieved quadruple platinum status. They were the third-best selling artist in Japan, behind only Mariah Carey and the Beatles. In 1973, they were even invited to perform at the White House for President Richard Nixon.
They won three Grammy Awards and were given their own TV variety series on NBC, Make Your Own Kind of Music. At the peak of their success, Karen tragically died in 1983, at the age of only 32,  after losing her long battle against illness.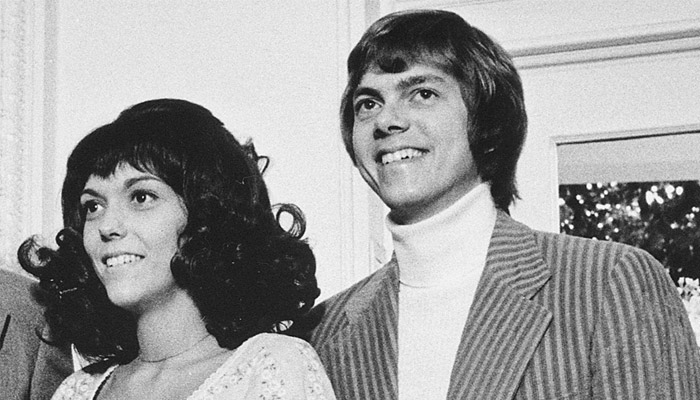 Early years
Richard and Karen Carpenter were born in New Haven, Connecticut, in 1946 and 1950 respectively. Richard, a quiet and studious child, was a self-taught pianist from an early age. Karen also enjoyed music but was sportier in her youth.
At age 14, Richard wanted a career as a professional pianist, so was sent to Yale School of Music. After the Carpenter family moved to Downey, Los Angeles, in 1963, he became organist at the local Methodist Church. He included Beatles' hits, rearranged in a more church-like style, in his repertoire!
Attending California State College in 1964, he met his future song writing partner, John Bettis, fellow musician Wesley Jacobs (who became his good friend), and Frank Pooler, who became Karen's singing coach.
Karen attended Downey High School in 1964 and began learning to play the drums and to read music. She learned more complex drumming techniques on her new drum kit, purchased by her parents.
She and Richard played together in a band for the first time in 1965, when they were involved in a local theatrical show, Guys and Dolls, the Frank Loesser musical. This led to the formation of the Richard Carpenter Trio later that year, featuring Richard on piano and vocals, his pal Jacobs on bass and tuba and Karen playing the drums.
After Karen took singing lessons with Frank Pooler, she and Richard joined a session in the Los Angeles studio of renowned bass player, Joe Osborn, in 1966. He was mesmerised by Karen's vocals and signed her up right away to his label, Magic Lamp Records.
Richard was offered a deal with Osborn's publishing branch, Lightup Music. He released two songs that he had written, featuring Karen as lead singer, with himself and Jacobs providing the backing band, but despite the Richard Carpenter Trio winning the prestigious Hollywood Bowl Battle of the Bands competition in June 1966, commercial success continued to evade them.
Career highlights
After the first two singles flopped, Jacobs joined the Detroit Symphony Orchestra and the trio folded. Richard and Karen founded a new band, Spectrum, but changed their name to simply The Carpenters in 1968.
They sent out demo tapes to many record companies and their perseverance paid off when A&M Records offered them a deal as a duo in April 1969. After releasing their version of Burt Bacharach's (They Long to Be) Close to You in 1970, it went straight to the top of the US singles chart, where it stayed for a month.
This launched their amazing rise to global fame, as they seemed to have the Midas touch, with every single they released becoming a big commercial success. Their follow-up, We've Only Just Begun, peaked at number two in September 1970 and Yesterday Once More in 1973 was their eighth number one hit.
Their next massive chart-topper was a cover version of Please Mr Postman in 1974.
Song's origins
The song was originally sung by girl group The Marvelettes for Tamla Motown in 1961, after being written by their lead singer, Georgia Dobbins, for her group's audition for the label. However, she left soon afterwards, so other writers were drafted in to re-work it.
The resulting song was recorded with The Marvelettes' new lead singer, Gladys Horton, who was hoping that the postman would deliver a letter from her boyfriend. The band on the recording was the Funk Brothers, with Marvin Gaye on drums.
The singer asks the postman, "Is there a letter in your bag for me?" and adds, "Why's it been a very long time since I heard from this boyfriend of mine?"
When the postman doesn't bring a letter or a card, the narrator blames him, rather than the errant boyfriend, telling him accusingly, "So many days you passed me by, you saw the tears standin' in my eye. You wouldn't stop to make me feel better by leavin' me a card or a letter!"
The song struck a chord with fans and hit the number one spot on Billboard's top 100 chart on 11th December 1961. It remained in the charts for 23 weeks.
Carpenters' version
The Carpenters' cover version of Please Mr Postman again hit the number one spot of the Billboard Hot 100, this time early in 1975. The duo released the song in late 1974 and turned it into a 1950s-style rock and roll song, rather than the Motown style of the Marvelettes.
Featuring Karen Carpenter on lead vocals and drums, Richard Carpenter on backing vocals and piano and a full band playing guitar, bass guitar, saxophone, tubular bells and castanets, it turned into the Carpenters' tenth million-selling single. It was also number one on the United States' easy listening chart and topped the charts in Canada and South Africa. It made the top ten in the UK, Germany, New Zealand and Switzerland.
Later career
The Carpenters remained at the top of their game until Karen's untimely death, after having battled the eating disorder, anorexia nervosa, for many years.
She continued to sing and even pursued solo projects, despite her ill health. She went for treatment with psychotherapist Steven Levenkron in New York early in 1982, after admitting she had a problem. In April 1982, The Carpenters released the single, Now, which was to be their last recording together. Karen's vocals were as lovely as ever.
Sadly, Karen died from heart failure soon afterwards, leaving a lasting legacy of the beautiful music she created with her brother.
Don't spend your time looking out for the postman – let Selectabase do all the hard work for you! We can provide a selection of specialist mailing services such as bulk mail, direct mail, hand fulfilment, hybrid mail, polywrapping, envelope inserting and more. Give us a call on 01304 383838 for further information.