Historic British Post Boxes
Did you know a Royal Mail post box stands within half-a-mile of more than 98% of the UK population? There are around 115,500 pillar boxes scattered across the UK, including freestanding ones and those attached to walls and lampposts.
Post boxes are something we take for granted, popping up on almost every street corner. We walk past them without really noticing – yet the familiar red structure is a staple of British heritage, dating back to 1852. Some are rarer than others and have a very special place in our history.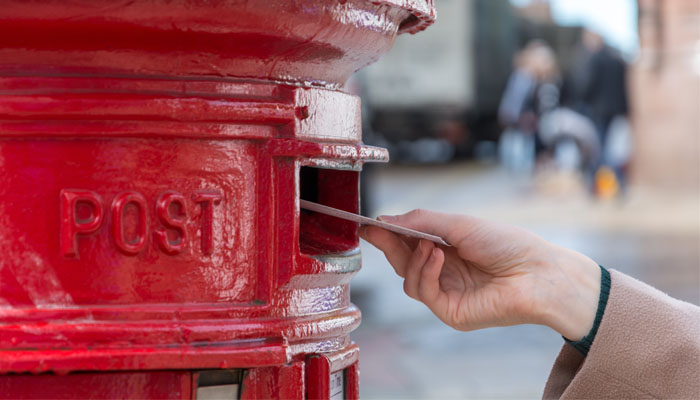 © Asvolas / Shutterstock.com
When was the post box invented?
The British post box has changed many times over the years. The roadside post box was first launched in Britain after the postal reforms of 1840, which introduced affordable postage for everyone, rather than just the wealthy. The new pre-paid postage stamps standardised the service across the country.
The problem was that letters had to be taken to the nearest post office and this could be miles away. With the growing demand for postal services due to industrialisation, this system was inconvenient. It was clear a new system for sending mail was needed. One General Post Office high-ranking official, novelist Anthony Trollope, was tasked with finding a solution. He came up with the idea of the post box.
He suggested using a cast-iron, locked, roadside pillar box where people could post mail. Letters would be collected at regular times by GPO staff. The scheme was pioneered in the Channel Islands in 1852 and spread to the UK mainland in 1853.
What is the Royal Cypher?
Since the launch of post boxes in Victorian times, they have carried the insignia of the reigning monarch. Known as the Royal Cypher, it's a monogram-like emblem, consisting of the sovereign's initials and title. These are usually interwoven with a crown.
Great Britain and other Commonwealth countries abbreviate the title to "R" – short for the Latin words for king and queen, "rex" and "regina". More than 60% of current UK post boxes display the "EIIR" mark – meaning Queen Elizabeth II Regina.
Around 15% of post boxes display the insignia of George V. Smaller numbers of post boxes contain the insignia of George VI, Queen Victoria and Edward VII. A survey by the Letter Box Study Group found 171 boxes still surviving from the short reign of Edward VIII in 1936!
Where is the UK's oldest post box?
The country's oldest surviving post box is at Barnes Cross, Holwell, near Sherborne, Dorset. Dating from 1853, it features an unusual octagonal design, crafted by John M Butt & Co, of Gloucester. Standing at 5ft tall, it has a narrow, vertical posting slot, with a swinging flap. The manufacturer's name is on either side of the slot.
All post boxes have had a horizontal aperture since 1857. Initially, there were only roadside pillar boxes to serve towns, but in 1857, smaller post boxes were introduced to rural areas and villages. These were fixed to the wall or a lamppost. This type of post box is still the most prevalent in rural areas today.
Post boxes evolved and developed throughout the 20th century. Some examples from the early years were hexagonal in shape, but this didn't really catch on. A standard aperture size of eight inches was introduced.
The post boxes were traditionally cylindrical, but in 1968, a rectangular version made from steel sheets was trialled, followed by a cast iron model in 1974. However, these were both deemed to be unpopular and the cylindrical shape we know today reappeared in 1980. There are still plenty of older pillar boxes surviving across the UK.
What are the factors that determine a post box's heritage?
According to historians, the main credentials for an important post box in heritage terms are its age, its townscape value and its rarity. Certain boxes have deep connections to prominent people and places. They all have their own story to tell and may have a particular meaning for the local community.
They are a cherished feature of the British street landscape and the most important are regarded as "heritage assets". They are given a status, depending on their rarity value. The oldest and rarest are put in the "designated heritage asset" category and the newer ones, which are still of heritage value, are categorised as "undesignated heritage assets".
In 1972, the Department of the Environment officially recognised that some rare early examples of post boxes, dating from 1852 to 1879 (such as the hexagonal Penfold post boxes) deserved to have listed status and were included in the national listing process.
Today's system of classification was put in place in 2002, as the result of a joint initiative by the then English Heritage (now known as Historic England), Royal Mail and the Department for Culture, Media and Sport. The resulting joint policy manages the retention and conservation of all Royal Mail post boxes.
What are the statutory requirements of a post box?
The Postal Services Act 2000 details Royal Mail's statutory right to place and retain post boxes in the streets. Pillar boxes are owned by Royal Mail, who don't need the Highway Authority's consent to install them, although the two bodies normally liaise regardless. If a new post box is planned for private property, the consent of the site owner is always required.
The Postal Services Act 2011 empowered the postal service's regulator, Ofcom, to place specific requirements on Royal Mail. A post box must be installed within half-a-mile of at least 98% of addresses in Great Britain, under the Designated Universal Service Provision regulations, to make it convenient for people to post mail.
Today, the Royal Mail's policy is to retain all post boxes in operational service in their current location, unless operational needs, or other circumstances, necessitate their relocation. In the case of listed post boxes, they can only be moved in exceptional circumstances, after Listed Building Consent has been granted.