Why you should Employ a Professional Mailing House
A professional mailing house will look after the marketing needs of your company, taking care of all your printing, mailing and postage requirements. By providing an efficient, professional service; your business could surely benefit, no matter the type or size.
Companies who appreciate the value of direct mail marketing will understand how a professional mailing house can make a significant difference to their success. A fully outsourced solution, it will ensure customers gain a positive impression of your brand.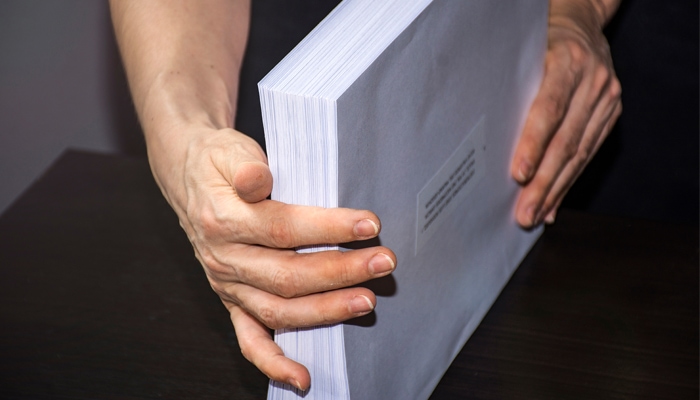 © Juan Enrique del Barrio / Shutterstock.com
Save money and time
Take advantage of the lower postage costs of bulk mailing prices, as a mailing house will offer competitive discounted rates for direct mail including packages, catalogues, brochures and leaflets. Businesses looking for a cost-effective mailing solution will be pleasantly surprised at how cheap it can be for a high-quality service.
Outsourcing to a mailing house also saves on costs in terms of employees. If you had to hire marketing staff in-house, you would need to pay their salary and other benefits such as pensions, expenses and bonuses. By hiring a mailing house, you will just pay a pre-arranged monthly fee for the services you use.
As well as saving money, you can save time too. If you have to design, print and pack envelopes and small parcels yourself, it can be extremely time-consuming. Staff will be taken away from doing other jobs, so it could mean longer working hours.
As all business people know, time is money, so it isn't feasible to have employees spending long hours completing mailing tasks. While it's an important part of your business, it's also very time-consuming, so it makes sense to outsource.
Achieve better results
Mailing tasks such as folding publicity material and addressing envelopes can be carried out automatically on purpose-built machinery at a mailing house. This means the job can be done much quicker and the finished results will look more polished.
Improve the whole marketing process by achieving better targeted campaigns, improving customer services and producing less waste.
You can achieve greater accuracy through using up-to-date data and mail sorting processes. A good mailing house will utilise data checking tools and will have systems in place to remove duplicates, for example.
They can also validate the accuracy of fields, such as the customers' title and postcode, which will follow the required format. Software can even be used to sort mail into the correct order to match the route the postman takes, enabling potential discounts on postage costs.
Flexible contract
A professional mailing house will offer a flexible contract that can be shaped to the clients' individual needs, enabling businesses to use its services when needed, with the flexibility to ramp up, or ramp down, as and when required.
If you wish to launch a massive new direct mail marketing campaign, a mailing house will be able to accommodate your every need. Should you roll out the campaign in-house, you would need to employ extra staff to help, or ask existing staff to work overtime, which isn't the most cost-effective solution.
Industry experts
The people working at a professional mailing house have expert knowledge in their field. This is something you would be hard-pushed to match at the average business. They will know how to provide the optimum services and rates to improve your brand image and save you money.
An expert will offer their clients helpful tips which they will have learned through experience, after years working in the industry on a diverse range of campaigns.
Integrated approach
You can integrate all your needs under one roof including printing, mailing and postage delivery.
Businesses who use a separate printing firm, mail fulfilment firm and postage company may find it works okay, but it's certainly not the most financially viable approach. Why not use one professional company where all three areas of your marketing campaign can be fulfilled together?
It means having only one set of commercial negotiations, a lower distribution cost with the stock being all in one place and less time spent on contracts and communications. A mailing house provides a "one stop shop" for every mailing-related service your company needs.
If you need someone to help you keep up with your business's in-house mailing tasks, or if you're looking for a cost-effective, totally outsourced solution, contact Selectabase – the professional choice.
The size of your business does not impact our ability to create a successful campaign – we can help meet every client's needs, thanks to our core business values of professionalism and reliability. If you want to see measurable results, give us a call today on 01304 383838. We can surely help you reach your goals!