Surviving to Thriving: How to Rebuild your Business!
Rebuilding your business after a pandemic presents challenges for everyone, no matter what size the enterprise. With the Covid-19 restrictions being gradually relaxed in recent weeks, businesses are beginning to find their feet again.
Now, with the government announcing the removal of all safety restrictions on 19th July, businesses are tentatively hoping for a return to pre-coronavirus normality as soon as possible. However, recovering from the damaging effects of three lockdowns won't be easy.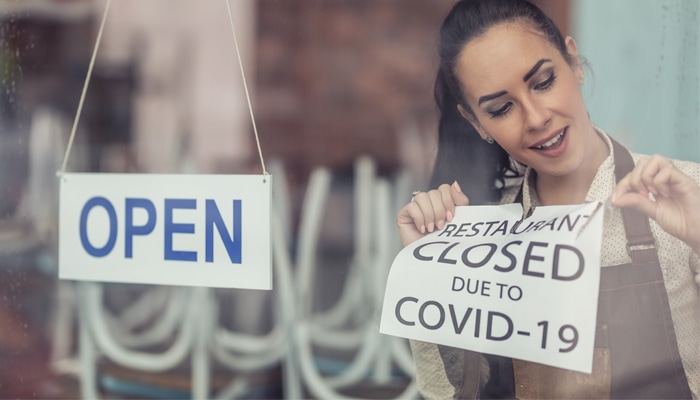 © weyo / Adobe Stock
How will businesses find their feet again?
People are left wondering if it really can be business as usual after 19th July. In fact, many of them have already said they will still be abiding by hand sanitiser and face masks within their shops.
However, business owners in the licensed and leisure sectors are confident that removing the Covid-19 restrictions will improve their trade. It will lead to more impromptu visits, as the disappearance of queues, combined with bar service, rather than table service, will create a more comfortable and convenient customer experience.
Combined with the rollout of the vaccine, more customers are expected to return. Business owners are hoping to be running at maximum capacity again almost immediately, due to increased consumer confidence.
Health Secretary Sajid Javid's announcement that people who have received both vaccinations won't need to isolate after coming into contact with someone who has Covid-19 is also seen as a boost. It allays the fears of business owners and customers who have been concerned about spending ten days in isolation if they have briefly encountered an infected person.
Figures show staycation bookings have already surged by 300% this year, so the hospitality sector is hopeful the removal of restrictions will attract more guests into their venues.
Retail stores who have operated with a reduced capacity during the pandemic believe Freedom Day will attract larger numbers of shoppers, with the associated rise in sales.
How many business have gone under?
According to research by the Federation of Small Businesses, around 250,000 UK small businesses have either permanently closed already, or are due to close imminently, as a result of loss of trade due to the pandemic. Confidence is at its lowest ebb in ten years.
In addition, 20% of firms had laid off staff by the beginning of 2021. They could no longer afford to keep them on in the long-term, despite the temporary aid of the furlough system, according to the latest Small Business Index.
In addition, Britain's high streets have lost more than 17,500 chain stores, with businesses of all sizes affected, including department stores such as Debenham's.
This is why the business sector is attaching such great importance to "Freedom Day". For many, it will be a last-ditch attempt to salvage their business before it's too late.
Decide which products remain relevant
There are numerous different ways you can help restart your business after the pandemic. It's important to start boosting brand awareness now, as well as increasing sales, by using multiple platforms. Use both physical and digital approaches to get the best results.
First, re-evaluate what you're offering to customers. Covid-19 has changed the way we live and you can't brush over this when it comes to your business. Determine if any of your products have become irrelevant to people's needs, or which have become more important.
For example, you may have sold travel or live event accessories prior to the pandemic. This type of purchase will have been largely irrelevant during the lockdowns, but will now begin to gain importance again. Go through your whole range and adapt accordingly to the current circumstances.
Other products that have sold well, such as face masks or hand sanitiser, may not sell as well now. Decide which are still relevant and weed out the ones that should be discontinued, or those that will become permanent fixtures in your stock.
Try to think outside the box – for example, face masks are versatile and people may still wear them as a precaution, even when no longer mandatory, so use this to your advantage and ensure they are properly branded.
Combining physical and digital stores
If your business had only a physical presence before the pandemic, chances are you will now have an online presence too. Just because Freedom Day is here, don't wind down your online store, as it still makes it easier for customers to get what they want if they don't want to shop in person.
In fact, research shows eCommerce sales are expected to rise globally to $4.88 trillion by the end of 2021! This is something you need to be a part of, regardless of how much foot traffic you have.
Your online store can offer delivery, in-store pick-up, promotions, special offers and above all branding for your business.
Use more channels for marketing
Use different channels to increase your customer base. Maintain high visibility on multiple platforms including email, live chat, social media and direct mailing.
Compile a comprehensive knowledge base to help customers as everyone gets back to normal. For example, give an honest assessment of expected delivery times for your goods. This will be extremely important if your staff have been working from home, or employee numbers have been reduced.
Most customers won't mind a slight wait, as long as they are kept informed and you don't promise something you obviously can't deliver. When you're trying to get back to normal, it's inevitable there will be a few teething problems. Keep your customer base informed, so they don't think you've simply forgotten them.
Communication is the key to keeping your customers happy. As businesses and consumers continue to experience changes in their daily life, make sure they can trust your brand. Research by 4A reveals 43% of consumers are reassured when they hear from brands they know and trust during times of crisis.
Never underestimate the power of personalised direct mail. Let customers know what products are available; what your delivery times are; how this will be changing after Freedom Day; whether any services that have been suspended will return; what safety measures, if any, you will be kept in place; and any other relevant information.
Open up a dialogue with customers and let them know you care and that you're there to help. Review your marketing strategies and if you're not personalising direct mail already, start doing so. It will increase the likelihood of people opening your mail and reading the contents.
Think about your own experiences – if you receive a letter addressed to the "occupier" or "homeowner", it seems incredibly impersonal and you may not open it at all. When personalised, direct mail is far more likely to get opened. It will also engage your prospects and whet their appetite for your products or services.
Addressing a customer by name is the easiest way to personalise your direct mailing campaigns. You could include personalised product recommendations by using your customer and sales data to see who's buying what.
Give customers personal deals and attractive offers to encourage them to buy your products or services. For example, as their birthday approaches, send them a money-off voucher for your store.
Eliminate unnecessary and irrelevant content by having an up-to-date mailing list, so you're not doubling up on mailing shots, or sending irrelevant information to sections of your customer base.
Using personalisation in your direct mail campaigns will make customers feel like they matter to you. They will welcome and appreciate your communications much more.
Moving forward, always use the benefits of direct mailing to engage with both new and existing customers. It will surely help your business bounce back after the pandemic!