What is a Mailing House?
Most businesses will have heard the term "mailing house", but not everyone will know what it means. More significantly, many people will be unaware of the advantages that using a mailing house can provide for your company, especially in these challenging times.
A mailing house is a company that works on behalf of other businesses, preparing and organising the large-scale despatch of their marketing letters, packages, and parcels, to be delivered by Royal Mail. A mailing house not only prepares the mail, it also offers other services such as data management, printing and bulk postage rates.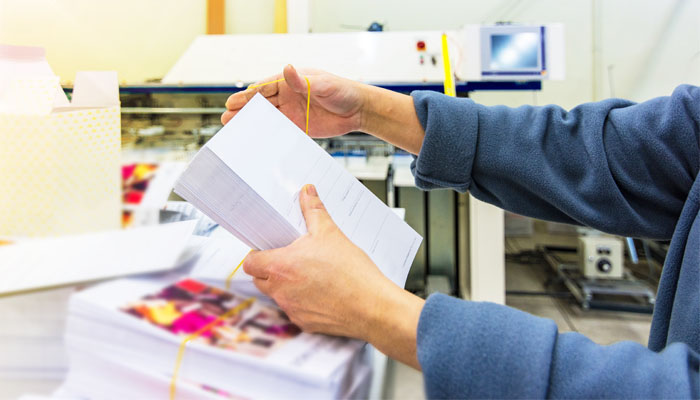 © Enrique del Barrio / Adobe Stock
What services does a mailing house offer?
As the name suggests, the main business of a mailing house is to prepare and send out mail, providing a complete create and post service. It will also offer other direct mail fulfilment services including designing, printing, sorting, packaging and delivery.
A good mailing house will have the latest machinery to carry out tasks such as polywrapping and envelope insertion. It will also be able to complete projects that require hand fulfilment, usually due to the bespoke design of the mailing pack and the size and shape of the items being inserted. It will provide a professional bulk mailing service, enabling businesses to send large volumes of identical letters to the different customers on their mailing list, at a reduced price.
Campaigns using direct mailing services are among the most successful. Even in today's world of email and social media feeds, direct mailing has a response rate ten times better than email marketing! A good mailing house will specialise in this tried and trusted method.
What about data management services?
A mailing house can access millions of B2B records to enable clients to start building their own targeted lists, using various criteria, such as the business's size, location, contact name, email address, phone number and many more search options. It can also access consumer data through a user-friendly, B2C marketing data list portal, where businesses can build their own postal mailing lists.
To enable targeted mailing, it can also offer useful subscription services, such as a regularly updated lists of new UK businesses who may sign up for new products and services, or a list of individuals in your area who are about to celebrate a birthday.
A mailing house will also keep clients up-to-date by enhancing and cleaning their data lists, ensuring the data is never incomplete or out-of-date.
Businesses are not permitted to make unsolicited direct marketing calls to phone numbers registered with the TPS and CTPS, so a mailing house should provide a free TPS checker, ensuring clients comply with Telephone Preference Service legislation.
What are the benefits of using a mailing house?
Considering all the services a good mailing house will provide, what's not to like? Using their professional services has a multitude of benefits. It can ensure your employees use their time more effectively, as the time-consuming jobs such as bulk mailing and direct mailing are outsourced.
Completing all your direct mail fulfilment in-house is massively time-consuming, so outsourcing to a mailing house can be a major boost.
If you had to hire staff in-house to handle the marketing, this would involve paying them a salary and providing other employee benefits. By outsourcing, you can sign up for a flexible contract – you will not be responsible for any extra employee costs.
You can also take advantage of bulk postage rates and the lower costs offered by a mailing house, saving your business money. Receive more accurate results, as a mailing house is an industry expert, well-equipped to manage better-targeted campaigns by using the most up-to-date data and mail sorting methods.
How can a marketing strategy help in today's climate?
Today's economic climate due to the COVID-19 pandemic presents some of the biggest challenges for businesses in living memory. A marketing strategy can help you to carry out smart and responsible marketing during the coronavirus outbreak and lockdown.
For every brand, no matter which sector, context matters. As well as taking action to protect employees during the crisis, your business must address marketing issues with empathy and tact. This presents a unique challenge for marketing teams, so outsourcing to a professional mailing house can help brands to make the right choices.
Adjusting your communication approaches during these challenging times is the key, as no-one wants to appear insensitive. Giving the impression you're taking advantage of the difficult situation can destroy your business, rather than enhance it.
A mailing house can help you to create a basic action plan, determining how to address these sensitive times thoughtfully by adjusting marketing campaigns. The first step will be to audit every marketing campaign you're currently running, or have in the pipeline, rescheduling anything that is no longer pertinent to the situation.
If something needs to be paused immediately, do so – but have something else in the pipeline so you still have the appropriate presence. Build your marketing strategy so that once the current crisis subsides and things begin to return to normality, you can move forward smoothly, without any major upheaval.
Selectabase is a long-established, reliable mailing house. Contact us on 01304 383838 to find out more about our services, or use our handy online contact form.