Where to Find the World's Oldest Post Office
Having a post office in the local community is more important than having a bank or a pub, according to new research from Citizens' Advice. The consumer group has found that 49% of UK residents rate a post office as one of the neighbourhood's most valuable services.
In comparison, a branch of the bank was rated as important by 31% of respondents, while 25% rated a pub as being a community asset. The new research has found that 59% of people use a post office at least once a month. A massive 96% of respondents said they used the post office to send letters and parcels and to buy stamps.
It's no surprise that the post office is still considered one of the UK's greatest assets. After all, it has been in existence for more than 300 years! It has become a British institution and despite the development of the digital age, it would be hard to imagine the high street without the familiar post office.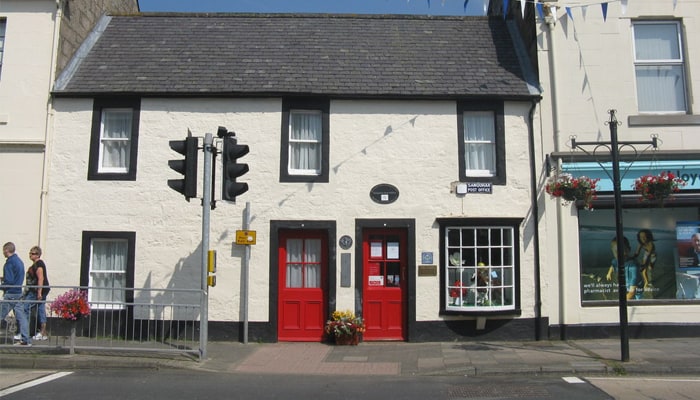 © M J Richardson / CC BY-SA 2.0
Oldest post office
The oldest working post office in the world is officially Sanquhar Post Office, located on High Street, Sanquhar, in Dumfries and Galloway. It has been recognised by the Guinness World Records, after first opening in 1712.
It has been going strong ever since, although of course, it has seen its fair share of changes over the past three centuries. When the post office first opened, Queen Anne, born in February 1665, was the monarch of England and Scotland, and the 3rd Parliament of Great Britain was in session.
The British politician Robert Walpole, widely regarded as the first Prime Minister of Britain, was imprisoned in the Tower of London on charges of corruption. Although he denied all charges, he was expelled from Parliament and jailed for six months.
The War of the Spanish Succession was in full swell, while in New York, there was civil unrest and protests on the streets against slavery, leading to the arrest of 70 protesters, 21 of whom were sentenced to death.
Early years
Sending a letter was a major feat in itself in 1712. This was 128 years before the world's first adhesive postage stamp the Penny Black was invented, in May 1840 in Britain.
When Sanquhar Post Office opened, the postmen were called "runners", as they literally ran through the streets to deliver the mail. There wasn't a counter as such – rather, customers would tap on the window to hand in their mail.
Horses provided the main mode of transport in 1712, whether it was pulling carriages, being ridden individually or even carrying freight. There were none of the modern conveniences which we have come to expect today.
In 1738, the post office first began stamping mail. Prior to this, the recipient, rather than the sender, paid the postage fee. The position of Post Master was a prestigious one and only a man already in an authoritative position in the community could assume the role. Schoolmasters, town clerks and provosts were considered suitable contenders.
Transporting mail
Later in the 18th century, horses were introduced to deliver parcels and letters, while the mail coach service was launched nationally. In 1882, a pilot scheme was launched, enabling postmen to use pentacycles to deliver letters in Horsham, Sussex. They looked like Penny Farthings with stabilisers, but were difficult to control on the bumpy roads.
Post was transported by train from the early 19th century. Designed in Britain in 1897 by Wallis and Steevens of Basingstoke and launched in 1904, the first motorised mail vehicle made postal deliveries a lot easier. In 1907, a 2.5-ton lorry became the first long-distance mail delivery vehicle and covered more than 300,000 miles during its 18 years' service.
Some practices at the post office lasted for many decades, such as hand-stamping all the mail. This method was replaced as late as 1974, when the post office saw national modernisation.
For sale
The Sanquhar Post Office includes outbuildings that were originally stables for the horses drawing the mail coaches. It has been heavily linked to Matthew Hogarth and his family, who ran the business for almost a century.
Matthew and his brother both served as Post Master, with Matthew holding the title from 1909 until 1932. His son, Jimmy, took over from 1932 to 1978.
The post office was put up for sale in 2014 and was taken over by new Post Master Manzoor Alam in 2015. Refurbished and renovated, there was talk of launching a museum there at some point.
In November 2019, Sanquhar Post Office (which also comes with a three-bedroom cottage and courtyard) was put up for sale again, with an asking price of £275,000. Dr Alam and his wife, Nazra, are now 77 and 67 years old respectively and wish to retire. They have reluctantly put it on the market but hope it will remain a working post office because of its heritage and the community value to the local people.
Selectabase offers many specialist mailing services, such as create and post and bulk mailing. For help with your marketing endeavours, contact us on 01304 383838 – we'll be glad to be of assistance!