Re-opening: How to Notify your Customers
Some businesses will soon be able to get back to some sort of normal once the government has given the go-ahead, so now is the time to plan how to notify customers that you're reopening.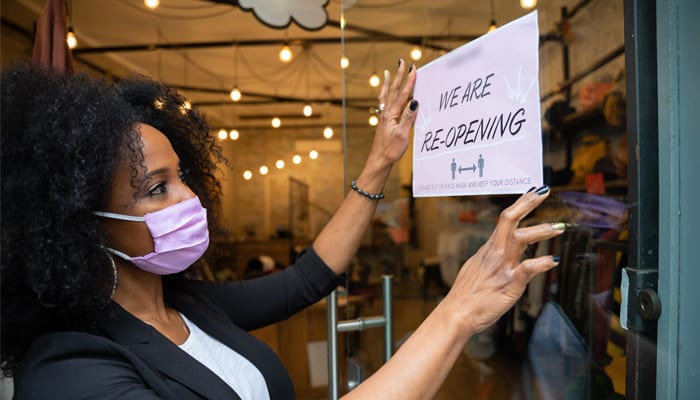 © loreanto / Shutterstock.com
Shops in England classed as non-essential can reopen on 12th April, after being closed since 4th January 2021, when Prime Minister Boris Johnson announced the UK's third lockdown to fight the virus.
If you are preparing to welcome the public back to your premises, you must make it clear when and how you're reopening: alert people to your opening hours, the availability of products and services and any new health and safety protocols you've put in place to prevent the further spread of coronavirus.
The pandemic's impact on businesses
A year of disruption has had an unprecedented effect on the economy, with a massive economic downturn recorded due to the trading restrictions imposed for the past 12 months. The UK's economy, measured in terms of GDP (gross domestic product) declined by a record 19.8% in the second quarter of last year, as a result of the first lockdown beginning on 23rd March 2020.
The GDP was down again by 8.2% towards the end of 2020, compared with the figures for the first quarter of the year, according to data from the Bank of England. It is estimated that £22 billion has been lost to non-food shops alone since March 2020.
Research by the Retail Industry Leaders' Association, released in March 2021, suggested it was going to be a long, hard climb back to normality. Sectors that have suffered the biggest decline include office equipment, business services, estate agents, fashion and luxury items, financial services, automotive, food and beverages.
In addition, hospitality services such as restaurants, pubs and hotels had virtually no trade during several periods in 2020. Some industries where staff could work from home did not suffer such severe losses.
Consumer-facing services are significantly smaller than they were in February 2020, but at this stage, the Bank of England says it's difficult to determine how the temporary losses caused by the pandemic will translate into longer-term behavioural changes among consumers.
What business sectors are allowed to reopen?
The first to reopen in England will be non-essential retail on 12th April. Barbers and hairdressers can also reopen from this date.
According to the Prime Minister's "roadmap" back to normality, next to reopen will be indoor leisure venues including gyms; and outdoor attractions such as theme parks, drive-in cinemas, zoos, libraries, and community centres.
Next will be outdoor hospitality venues, while domestic overnight stays in self-contained accommodation, for members of the same household only, will be permitted. However, it is likely to be 17th May before the hotel sector can fully reopen.
More people will be able to attend weddings, funerals and wakes, although there will still be limitations. Non-essential international travel will still be off the cards, but that could open up many possibilities for the UK's tourism industry.
Does this differ throughout the UK?
The dates differ slightly in the various regions of the UK. For example, in Scotland, non-essential retail is starting to reopen from 5th April, when click-and-collect services will resume.
Homeware stores, garden centres and car showrooms will also reopen from this date. Hairdressers can also reopen from 5th April for appointments only. Shops can reopen fully from 26th April and Scotland will move down to level three restrictions.
Like England, Wales is also starting to open some sectors, including non-essential retail, from 12th April. In Northern Ireland, no dates have yet been specified for the phased lockdown exit plan discussed by ministers, who merely said it would be "led by data".
How can we open safely?
All businesses that are reopening will still have to follow social distancing and other government guidelines in order to minimise the risk of spreading the virus. Stores must still have hand sanitiser stations available for customers and staff and the trolleys and self-service checkouts must be cleaned frequently.
Stores will be cleaned thoroughly overnight, customers can't test makeup or other personal products and the clothes fitting rooms can't reopen. Posters will be displayed to explain the rules.
The government has also revealed shops will be permitted to have longer opening hours than before the pandemic to ensure there isn't a sudden rush of custom during the day.
Notifying customers
With the exciting news of the easing of the lockdown, businesses need to determine the best ways to notify customers of their reopening. There are many different ways of doing this effectively.
Try large, eye-catching, branded signage and banners outside your store. The chances are people will be out and about gearing up for the grand reopening, so they will spot them straight away.
You can also announce your reopening on the company website and social media feeds, where the details should be the easiest things to find. You can reveal details via email marketing, making the announcement directly to your customers' inbox.
An affordable service that enables businesses to target a specific audience, such as those residing within a five-mile radius of your premises, direct mail marketing is a tried and trusted way of notifying your customers of your plans to reopen. Simply select your mailing route and let a reputable mailing house do the rest. Research shows 85% of small business customers come from within a five-mile radius, so these are the people you need to target.
Recent surveys have shown direct mail marketing offers a favourable ROI of 29%, compared with only 16% from online display ads; supporting the theory that people are suffering from digital fatigue. This is caused because everyone has spent more time online, whether they're working from home, furloughed, or going online for leisure, due to the pandemic.
A timely direct mailing shot can be highly successful, because receiving one piece of carefully designed direct mail can be preferable to being continually bombarded with digital advertising.
Don't delay – it's all to play for!